HOW TO CHOOSE THE PERFECT COMMITMENT RING FOR IT?
The engagement is a momentous in a couple´s life and always choosing the right engagement ring has been a major challenge. It could be an overwhelming situation but with the right information about what you have to look for in a ring and with our advice and support in this process you will be able to choose the perfect ring for the woman of your dreams.
The following data that we have analyzed to help you in choosing the right ring will be enough to surprise her and make her completely happy.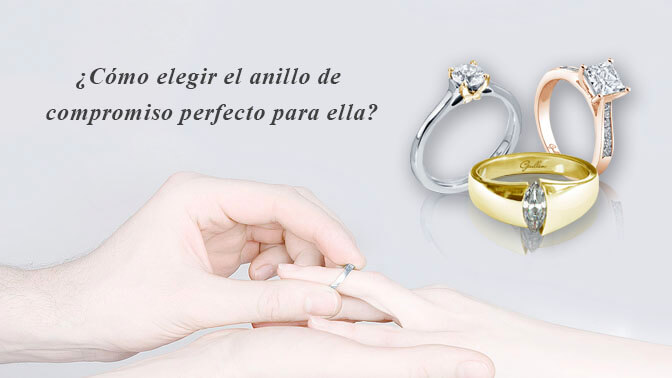 The first thing to do is visualize in your current jewelry to identify your style; we know that you want your girlfriend love your choice, as well as being a surprise to prove that you know her. That's why you should be very aware of what other rings and jewels she loves to wear. You must keep an eye on these preferences:
Style: Do you prefer colorful and eccentric pieces or discrete, sober and traditional styles?
Color: Do you lean more toward color or generally keep it simple with white, silver and gold?
Ring body: The ring body is the metal that holds the stones in place. Does it point to metallic colors? Or are interested in more unusual designs and materials?
Size: how big are the stones or pieces in most of your jewelry? Do you like the smallest and most discreet jewels or the big and ostentatious rings?
Use clues that your family and friends can give you such as ideas for a potential ring. Even many women have particular ideas about their perfect engagement rings. Consider commenting on a friend's engagement ring and asking her preferences at the same time. You can say something like, "I think Mary's engagement ring was a bit flamboyant." What do you think?
Determine her opinion about diamonds. Is she a passionate supporter of fair trade and human rights? Be sure to look for conflict-free diamonds like ours "Guillen Joyeros" for your process of choice.
Talk to her about alternative stones if you do not think she's interested in diamonds. Diamonds make up almost 90% of all engagement rings that are sold, but they are not your only option, even some stones have really beautiful meanings. You might consider:
Sapphires: This intense blue stone is the second most common for engagement rings.
Emeralds: they are bright green stones so you probably want to make sure she likes the color before buying it.
Colored diamonds: yes, they are still diamonds, but the yellow, black and pink-tinted diamonds give a unique style to the ring while still being kept in a certain way.
Get the ideal ring next to us, we will be your perfect allies.
Andrea Salinas
Degree in social communication – Corporate
Marketing Manager ·Guillen Joyeros